Yes, I am so happy to be here, it was very exciting for a while, after two days in hospital and yes some setbacks, but we are used to that now. Now I'm pretty tired and pursed, but 8.3 liters lighter and luckily in the end a bit more comfortable.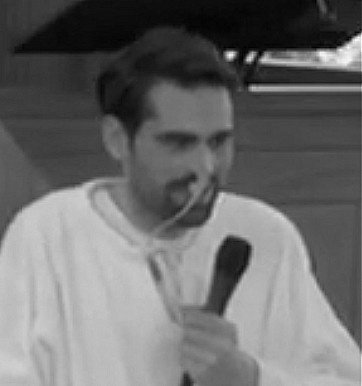 What I wanted to tell you; in the first instance, which I think is very important: since Janneke and I were really confronted with the bad news for the first time (that they suspected that there is bile duct cancer) we have received so much encouragement from people around us and from church members . There has been so much prayer in so many different churches and it is truly insane to see this have happened. And we really see there, and we've really seen in that (and we still do), the body of Christ here on earth, and it transcends every church wall, human church wall. And it's really fantastic when the need arises to see that those church walls don't even exist. And let's really focus on that.
What I wanted to share is just my experience and our experience of the past period. What I just said is yes, a few weeks ago we first got the bad news that they expect me to have bile duct cancer. That hit hard, you don't expect that, a young guy who hopes for a gallstone and yes it turns out to be a different story. We didn't know what to do. That evening the first questions were like: why? What do I have to do with this? Do I believe well? Am I a child of God? Fortunately we had visitors, visitors, I won't say from whom (Baukje and André) and there we learned to express confidence in God, in Jesus. Not for the whole period, but for every moment, for every day, for every step. And we've been doing that ever since. And it is, it is special to see and experience how much rest we get and have received since then, how much confidence we have gained and how we have been able to bear this. And I really can't imagine how you would do that if you don't have a God in your life and you really have to do this just the two of you. Every time we went to the hospital with new hopes and every time it was kind of, yeah, it could be okay or it could be bad and then it was always one worse option that you never thought of. And each time we fell back on God. Each time we fell back on the people who stood around us. The encouragements, the prayers; there has been so much prayer. And yes, that was very encouraging. God has shown during that period, and He continues to show, that He is there in so many different ways. Every time we lost our senses or when sadness took over, we could pray for each other. And then we got that peace again. When we were anxious, we got peace again. And every time we thought how long will it take? Then we got exactly the bit of text in a book or in the Bible or whatever that we needed at that moment. Have patience.
We have learned so much from God. He is sovereign, He is almighty, He decides. And I am firmly convinced that my days are in His book and they can be very few, but they can also be many, that's up to Him. At one point we had an operation where I was in the hospital and I was in a four-person room. The surgery had failed. Everything had been thought out in advance; we're going to do it like this and we're going to do it like this and then you get relief from your complaints, then the jaundice goes away, well you see: that didn't really work out. That's what I mean by "each time it was worse than you might think". There was a man in that room. We didn't say much to each other, but it was just a thumbs up and a greeting. When we came back, we had pretty dejected faces because it had failed. Because we had actually been told yes, you have metastases and expect it to be bad. So we got a private room in Utrecht, so that Janneke could also stay the night. The next morning we went home. And that man, he was sitting there on the bench when we walked out. Then er ………….…. Then he came to us …………….. almost running, such an old man. He said, "I'm so glad to see you. I've been praying for you all night' …………… And those are those winks from God ……… in which He shows: I am here. I am with you ……….. And that again and again ……………
Then we listened to a sermon from Hein about baptism. I had been thinking about baptism for a while. I wasn't quite sure what I wanted to do with that. And in that sermon Hein indicated that he was given up by the doctors and that when the doctor said that to him, Hein indicated: "You don't decide that. My days are in the book of God." Then you listen to a sermon on baptism and there is such a message in it. That's so special. Then it came to my heart to invite Hein. Fortunately, Janneke was all for it and we've seen you quite often since then. Happy. Fortunately, because we learn a lot through this, you show that we are actually still babies in the faith. I've been going to church all my life. Yes it is quite tradition. When I look at myself and my life so far, it was really me focused. If only I had my affairs in order: I was married, nice house, good income. That was all important. And I also believed. That's reversed. Radical. God has recently renewed my mind. I can honestly say that. And in doing so, my old self has gone very far into the background, touched, fortunately. And I also truly believe that it died with Jesus on the cross and that I now have a new life from God. And that is a life that is wonderful, however long or however short it may be. God is number 1. I want to live and do everything for His glory. I want to testify of Him. I want to show what He is doing in my life, what He means in my life, and I thank Him for everything I go through. I thank Him for all the peace and all the strength I get from Him and Janneke too to be able to bear this together and especially with God. Yes whatever will happen; God is with me and I hope – that is perhaps very human – that I still have a lot of time here. But now I know that if I don't get that, I don't have to doubt, because I'm one hundred percent sure of being a child of Jesus and that I'm sure I'm going to a wonderful place. And I would very much like to confirm that. By this testimony and by this baptism.
Thank you.